Presents 
Our Foundation Dam
U-CH U-CD U-AGII C-CATCH
Gaylan's High Flying Abbi
CD RE JH MX MXJ NAP OF AD PD2 CCA WC VC OD
 

EJC EAC OGC
June 11, 2001 – Sept 6, 2013
photo by Jan Masica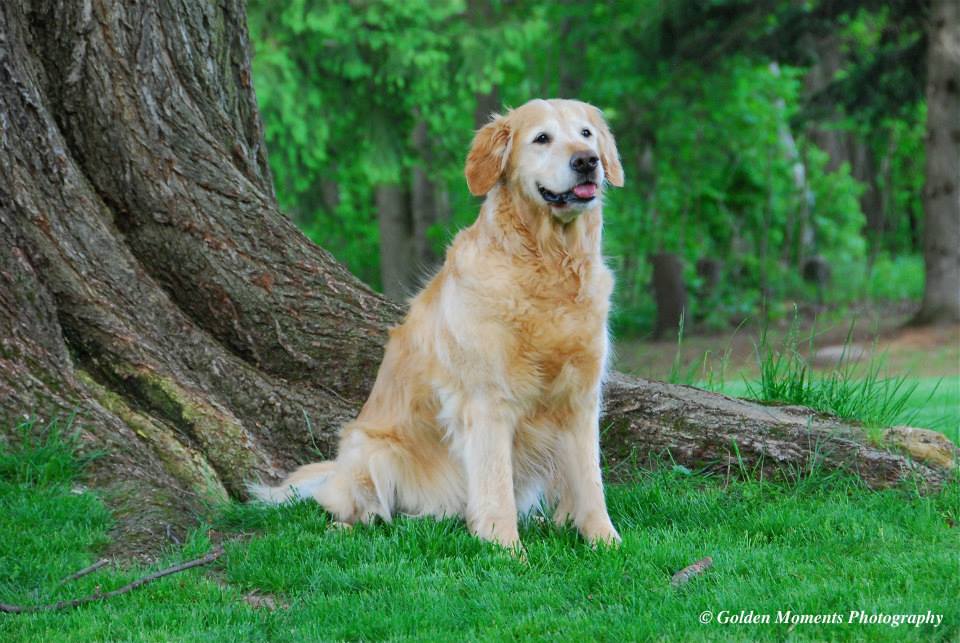 Abbi's 12th Birthday



Abbi
Sire:
CH Celestial Sirius Jake CDX JH WCX OS SDHF 
Abbi was
our golden that we were lucky to get from Gayle Watkins and her Gaylan's goldens. She was everything we had asked for. She loved life and her tail never quit wagging. She was my agility star. She loved agility with a passion. She was very responsive, focused, and fast.
MXJ at the 2005 GRCA National. 

CPE Agility Championship (C-ATCH) 

Rally Advanced title at the 2005 National. 

Dam of 11 RE offspring, making her historically #1 golden RE offspring.

Certificate of Conformation from GRCA (CCA) on her first attempt five days after being bred for her second litter. 

Finished her UKC CH at 13 months old, finishing in five shows, with the help of my friend, Pat Morgan, who was a wonderful long time breeder of Belgian Tervs and Lakenois.

Finished her JH, with her son Shiloh, on Oct 1, 06. 

Working Certificate at 2008 GRCA National, getting our first ever WC!
Abbi was Tom's great hunting partner, hunting pheasants. 
We took time out from Abbi's training and trialing to have three litters. 
In April 2005, Abbi had her first litter, which we co-bred with Abbi's breeder Gayle Watkins, from Gaylan's Goldens.
We bred her to Timberee at Monument Canyon CDX MH WCX ** OS a beautiful obedience hunting dog, who lived to be 15 1/2, from several conformation lines. We had nine beautiful puppies, kept a little girl named Chime, and the rest went to fantastic homes. She became an Outstanding Dam with this first litter and they helped their sire Canyon become an Outstanding Sire too. They did agility, rally, tracking, obedience, and became great hunting dogs, and wonderful companions. You can see more about these puppies on the Past Litters page,

Music Litter page. 

  
Abbi's second litter was again co-bred with Gaylan's Goldens and born in July, 2007. We bred her to High Times Run'n The Roost*** UD MH WCX OS.  She had five wonderful pups July 10, 2007. They went to wonderful working homes and have great careers in agility, tracking, field work. One became a Champion Tracker/MACH/MH50/HTHF/UDX and qualified for the ADHF.  One of the pups stayed here with us. Her name is Kerri. Check her out on her own webpage and check out the

Irish Litter

on their webpages.
Abbi's third litter was our first litter under the Topmast name. She was bred to Ch Buckeye Standing Ovation and whelped 11 puppies Jan, 2009. They went to wonderful homes and they are doing great things.  You can check them out on the

Traveling Litter webpages

.
We lost Abbi to kidney cancer at 12 years and 4 months.  It has been one of the most painful losses we have experienced and we still miss her so much.
Pedigree of "U-CH U-CD U-AGII C-CATCH Gaylan's High Flying Abbi CD RE JH MX MXJ OF AD PD2 CCA WC VC OD"

Parents

GrandParents

GreatGrandParents

SIRE

CH Celestial Sirius Jake CDX JH WCX OS SDHF      

 

GH Elysian Sky Hi Dubl Exposure UDT MH*** WCX VCX OS

 Ch. Wingmaster Reddi To Rally CDX WC OS

CH Beaulieu's Akacia O'Darnley UDTX JH WCX OD

Prairie's Coming Comet CD MH*** WCX OD

FC-AFC Sunfire's XX Buckshot OS

Prairie Thistle's Funky Fern ***

DAM

Trumpet's Gaylan's Butterfly CD JH AX AXJ OD CCA WCX

CH Golden Pine Hi-Way to Heaven

CH Suntory Golden Pine RMS CD JH WC

Am-Can CH Pepperhill Gldn Pine Trumpet CDX SH WCX Can CD WCX OD

Trumpet's Blond Burlap CDX MH NA NAJ CGC WCX OD Can WCI NJP NAP

Am-Can CH Trumpet's Tijac Twister UD JH WC

Riverbend's Rugamuffin MH** WCX OD