Congratulations to Randy & Pat McKinney on Mattie getting the final passes to join the elite 500 Point Club in HRC!
This is a huge accomplishment.
HRCH 500 POINT MACH Topmast True Grit RN MH21 MX MXB NF WCX CCA VCX CGC ADHF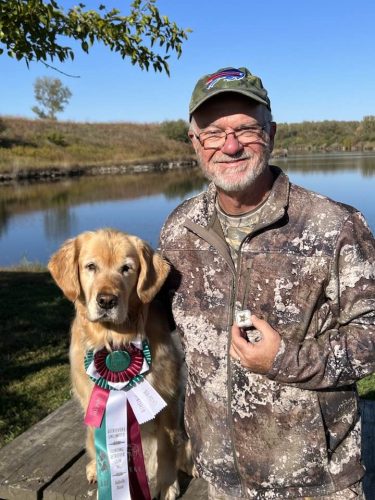 Caper had a tremendous year. The 37 QQs he created this year resulted in MACH's 2 & 3, MXS, MXG, MJS and MJG and he is Nationally ranked among Golden's for QQ's in AKCs Breed Rankings.
SHR Topmast Double Buckshot Buddy BN RN JH WC CCA – Passed his JH & WC tests, qualified in Rally Novice,Beginning Novice, and passed his CCA.  This qualified him for the GRCA Triathlon Award.

SHR Topmast Traveling with Scotti BN RE JH WC CCA – Passed both JH & WC tests, qualified in Rally Excellent &    Beginning Novice placing 3rd in a class of 50+ entries.

Topmast Remy Martin Cognac MH16 – (Critch)- passed his Master Hunter test.

Topmast Partridge Berry Sauce (Critch) – passed her first Junior Hunter test at 1 year old.

One of our Topmast owners, Jan Masica, judged the Master Test at the National and had a great time judging the dogs.

Kerri & Keeper were in the Parade of Titleholders and were the oldest dogs in the parade….14 yrs 3 mo!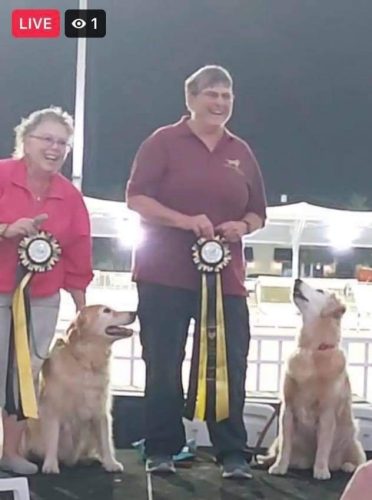 (12/18/2017-)
Mattie
Ritzy is the dam of the Double Litter.
What a team!  Getting 50 Master Hunt test passes is a HUGE feat and this team is a well oiled machine together.
Watching Keeper run hunt tests is such a joy….you can see how much she loves the game.
We are so proud of you two!
Keeper is now known as:
~~~~~~~~
~~~~~~~~~~~~~~~~~~~~~~~~~~~~~~~~~~~~~~~~~~~~~~~~~~~~~~~~~~~~~~~~~~~~~~~~~~~~~~~~~~~~~~~~~~~~~~
Sept 3, 2017
2016
---
---
News

---
---
News
Sept 14, 2014
A big Congratulations to Steph Critch and Luk on getting their Master Hunter title!!!  Steph put all of Luk's MH passes on herself and he's her first dog to do field training!
Go Steph & Luk!!
Luk is

Topmast Karluk's North Pole Voyage MH CGC

, from our Traveling litter. 

---
News
May 25, 2014
Max CD!!
Gordy and Max completed their CD in three straight shows with three First Places!!!  WAHOO!
Go Max!
This is Gordy's first title he's put on a dog, so we think he's done a great job!
Congratulations!!

Nov 3, 2013
CT Keeper!!!
Congratulations to Jan Masica and CT Keeper on completing their VST track in 12 minutes and obtaining their Champion Tracker title!!  WAHOO!!  A CT is not an easy title to obtain.  Only 5% of dogs pass that VST, which is tracking on concrete, asphalt, and grass.  I was there to watch Abbi's daughter complete that track in 12 minutes and it was breathtaking.  The crowd was estactic for Jan & Keeper and Jan was so happy.
 Congratulations to Jan and 
CT Gaylan's Lucky Four Leaf Clover  CDX RE MH MXB MXJ MXF ADHF WCX VCD2 CL1-F CGC.
    What an amazing dog Keeper is and what a great trainer Jan is.

News
Oct 2013
We have our first MACH!!!  Donna & Jade finished their MACH at the tender age of 2 yrs 4 months!!  This right on top of her getting her ADHF!  Wow, this team is really rolling along.  Talk about Consistancy!
Congratulations to MACH Topmast Purple Jade ADHF!!

News
July 7, 2013
obtained her 10th QQ this weekend to qualify for the Agility Dog Hall of Fame!
This title is given to dogs that have 10 QQ's, with 6 of them with double placements.  This is not an easy title to obtain, especially for Keeper competing in the 20″ class, which is the highly competitive class with lots of Border Collies.
Way to Go, Keeper & Jan!!!!

News
 June 2, 2013
A big WAHOO to all three of my young girls for finishing their SHR (Started Hunting Retriever) titles this weekend!!!  Diamond and Chime did it in four straight and Kerri needed that fifth one.
I am so proud of my girls for loving the retrieving game and having fun with me.
So proud of Diamond, who has been completely trained by Tom, and I get to show her for her titles.
Feb 28, 2013
What a great team they are becoming!!
---
NEWS
Feb 17, 2013
Congratulations to Pam Martin and Bon,
 for finishing their Can CDX with another High in Trial!!  WAHOO!!
These girls are on a roll!
Congratulations to another Traveling litter pup Nina,
and her owner MaryEllen Moyse on their new CD from the Novice B class, in three straight shows!
Feb 3, 2013
Congratulations to Pam Martin and her Bon on her new Can CD and two HIT's!!
She is now known as
Wahoo!!  Go Bon!!!
October 14, 2012
August 12, 2012
Congratulations to Abbi's daughter from the Irish litter,
July 31, 2012
Chime had FIVE puppies from her breeding to Kamikaze!!
 (see our puppies page for further information)
Congratulations to Traveling litter Lexie (Topmast Wings of Travel UD RE JH CCA CGC) on getting her Utility Dog title!!  All with  Placements too!!
Way to go, Doug & Lexie!!!
May/June 2012
 Go Keeper!
March 28, 2012
NEWS
March 25, 2012
Congratulations to

Bing

and Barbara Verga (Music Litter) for finishing his Versatility obedience title (VER) in three straight titles.
Congratulations to

Perri

and Barbara Verga (Traveling litter) on getting her 2nd UD leg with a 2nd place!  She's moving right along towards that UD.  Now back to agility.
Congratulations to

Skipper

& Joe (Traveling litter) on finishing his Rally Excellent title (RE) with three FIRST places!
---
NEWS
Feb 13, 2011
Wow, what a weekend Abbi's babies have had!
Keeper

(Irish Litter) got QQ #2 with double placements (2nd & 3rd) and another MX Q with a 3rd place.  Very impressive weekend, Keeper!
Not to be outdone, her brother

Jig

(another Irish pup) got his first QQ with double      placements too.  Way to go Jig!
Karli

(Traveling litter) got her first agility Q this weekend in Novice Standard with a First Place.  Wahoo, Ms Karli!!
Skipper

(Traveling litter) got his first two Rally Excellent legs this weekend with TWO first places!!  Go Skip!!
Perri

(Traveling Litter) came home with her first UD leg and 4th place.  Very impressive!
Her brother, Bing (Music Litter), did a fantastic job! He won the Utility B class
once, got another UDX leg, got 2 Versatility legs with more Master
Points and OTCH points, and won Highest Scoring Golden with a Field
Title both days of the Golden Specialty. He qualified 3 out of 4 times
in the Utility ring and once in the open ring.   Bing is on a roll!
NEWS
Nov 13, 2011
Oct 30, 2011
Congratulations to Irish litter pup Jig on getting his Junior Hunter title!!  This is Sandy's first field title and she's thrilled having Jig showing her how much fun it is!
Gaylan's Irish Ceili Dancer RN AX AXJ MXF JH WC VC CCA O-NAC/NCC/NJC/TN  
(7/10/2007-)
Oct 9, 2011
Busy weekends for the Abbi's Topmast/Gaylan's offspring.
New AX!!!  Jamie–

Gaylans

Celtic Spirit AX AXJ XF AD (Donna Anderson)

New JH!!!  Joy– 

Topmast Joy's Country Mile JH CGC TDI

  (first AKC title Laura ever put on a dog! (Laura McGarrell-Young)

First AX leg–Finn — Gaylan's Finnegan's Rainbow

OA NAJ OF NAC NJC TNN CGC

(Sue & Teri Zagoda)

New RA–

Skipper

,

Topmast Atlantic Traveler RA CGC TDI TT (Cona)

, all 1st places.  Also First Place in Beginners Novice Obedience for first leg.

New RE —

Charge,

 U-Ch Topmast American Express Traveler CD RE TDI CGC

(Zelinski),

First SH pass!!  – Luk – Topmast Karluk's North Pole Voyage JH CGC (Steph Critch).
Sept 3, 2011
July, 2011
It's been a busy month for Abbi's offspring. 
And Chime sent her puppies home to their new homes (Abbi's grandpups).
News
May 20, 2011
Chime's Gemstones are here!!
Five babies born May 20, 3 females, 2 males.
---
---
February 14, 2011