Can CH GMOTCh Topmast Take the High Road Can WCX GRCC VCX VHOF OHOF, Am. CDX MH WCX CCA VC OD
CH HRCH Beau Geste Being Ramiroz UD MH WCX** DDHF VCX OS.  
They were bred and raised in Ottawa, Canada by Bonny's owners, Pam Martin & Bruce Hiscoke.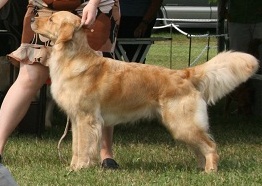 Bonny 

Drive, Structure, and Biddability
We expect lovely, biddable dogs that should be capable of following in their parents footsteps becoming multi-purpose working dogs.  
We believe we achieved that with this breeding.  
The pups tested well and have gone to their new homes.  It will be fun to watch their development.
Click on their name to go to their webpage.