Our

Breeding

Philosophy 
We are Golden Retriever owners with a limited but well-planned breeding program, after working many years with our original dogs' breeder, Gayle Watkins,
Gaylan's Goldens
,

NY. This means that each breeding is of tremendous importance to us and that we put all our efforts into caring for and socializing our pups.
When we do have a litter, it may be raised here with us at Topmast Goldens in Michigan or with our co-owners.    We have entered into co-ownerships with a few of our puppy owners who share the same dream for producing the ideal hunting companion, healthy Golden Retriever. We do not believe any Golden should live in a kennel environment, we believe in the same breeding  philosophy and share the same dream for healthy, sound, athletic representatives of the breed. 
All dogs produced in our breeding program are listed on www.k9data.com 
This is an open database of pedigrees on golden retrievers.
We believe in honest and open information on all dogs produced by us.
All our dogs' clearances are also listed on OFA, a data program for clearances for all dogs for hips, elbows, heart, and eye clearances.   www.ofa.org

Even with our limited breeding program, the dogs from our first litters have competed successfully in

obedience, hunt tests, rally, tracking, and agility.

  We have produced, some with Gayle, from Abbi, Chime, Karli, Chime, Diamond, and Chili's litters:
A Canadian Champion and UKC Champion.

A HTHF/MH50 dog, Six Master Hunters, all who qualified for the Master National field event, seven Senior Hunters, and several Junior Hunters.

Eight dogs with their WCX and 18 WC's.   We have several training and showing in hunt tests.

One HRCH/500 Point Club and 11 dogs with their HRC SHR's.

A MACH9, two MACH4, four MACH, three ADCH, a C-ATCH4,  a C-ATCH, several dogs with their MX or MXJ, working towards their Master Agility  Championship (MACH)

Many Dogs with their AX or AXJ, MX & MXJ,

NAJ or NA, OA or OAJ titles

.

Dogs showing in FAST, with two having their Excellent Fast titles.

A Tracking Champion, Two Tracking dogs, one who obtained her TD at the GRCA National Specialty and a year later finished her TDX, and our own Kerri who finished her TD for our first ever TD that we titled, and our Chili who has her TD & TDU.

Two dogs with Can GMOTCH, an OTCH, two dogs with their UDX2 and one with UDX and two Master Obedience titles, six UD's, five CDX, and seven CD's, and several working in obedience.

Four RAE, thirteen dogs with Rally Excellent titles. This is a record of Abbi being the dam with the most RE titled offspring ever.

Multiple dogs with Certificates of Canine Good Citizenship (CGC), from AKC.

EIGHT of the eleven Traveling litter had their CGC's, six by 9 months of age.

Three of the Traveling pups were active in Dock Diving, with one having her UKC Junior Jumping title, and two have their AKC Puppy Star Program certificates.

Certified Therapy Dogs actively doing therapy work, and several in training.

Several wonderful hunting companions.

TWENTY dogs have their Certificates of Conformation Assessment (CCA), Golden Retriever Club of America.

We have dogs that have CPE Agility titles and 

dogs that have qualified in NADAC, one with several of his Outstanding Novice titles.

Three dogs have USDAA Novice and Advanced Agility titles.

All are well-loved family members.
Topmast Hunting Litter Summer 2022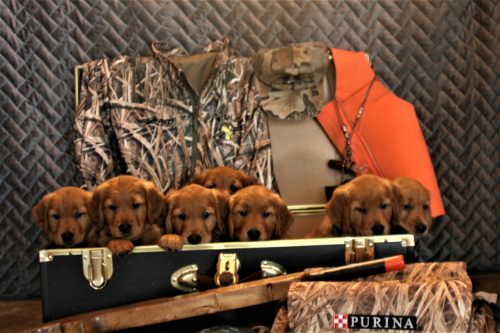 The Gemstone (2011) and Outer Space (2012) litters from Chime carried on the working tradition of our breeding program.  One had her MACH9/GRCA ADHF. One had her SH and CDX. Another had his OAJ.
Several are active hunting dogs, and one has her SHR & WC.
The three litters from our co-breeding of Karli, an Abbi daughter, owned by Myra & Joe Globuschutz, produced the Liquor Litter (2014), Cowboy Litter (2016), and Scottish Litter (2017).  These pups carry on our working tradition.  So far, we have a an HRCH/500 point club/MACH/MH/MXB/MJB/WCX/CCA/VCX, CD/MH/AX/OAJ/WCX, and MACH5/MXB/MJB/EF/ADHF/TDU, and SHR/SH/AX/OAJ/OF/WC, RN/NAJ/TKN/NMF/NHTM (a dancing freestyle dog that was phenomenal).
We have 3rd generation with two litters from Diamond, the Spice Litter (2017) and Rain Litter (2018)
and 4th generation with the Double Litter (2019), co-bred with Kim with Ritzy from the Audeo-Topmast Road Litter and Buddy and Chili's Saucy Litter (2020) and Chili's Hunting Litter (2022).
These pups helped Abbi, Karli, Bonny, and Diamond become Outstanding Dams, as bestowed from the Golden Retriever Club of America.
This is an honor that we strive for with our breeding girls.
Breeding Criteria:
Longevity, Temperament, Conformation, and Working Ability is the criteria we use to select stud dogs for our breeding program.  Together we pick sires that we think will combine with our girls to strengthen and solidify type and working ability.
Our ideal golden, the goal of our breeding program, is a dog of moderate size and substance that
Has a lovely, correct head with a pleasant expression, who moves like an athlete.
Has a moderate, drip-dry golden colored coat.
Is a moderate-high energy dog that can hunt birds during the day, but settles well in the house in the evening.
Has the natural hunting abilities, biddability and intelligence to be trained to be a capable hunting dog or be shown in agility or obedience by their experienced owner.
Loves the family's children and tolerates dog-appropriate handling by them.
Gets along well with other dogs.
Is healthy and sound, with no chronic illnesses of any kind, including allergies, hot spots and orthopedic problems.
Lives a long and healthy life as a beloved member of their family.
All of this means that our dogs fit well into active homes where they will have serious jobs and regular training and exercise. We seek hunting or competition performance homes for the vast majority of our puppies. A few pups may go to non-working pet homes, but they will need regular, active exercise.  They will not be couch potatoes!
  At Topmast Goldens, we have a limited well-planned breeding program that are raised with Gayle Watkins,
Gaylan's Goldens program from Avidog for as natural an upbringing as possible for our puppies.  You can read more about Gayle's Puppy Raising Program here:  http://Avidog.com
* When you buy one of our puppies, you get 24/7 'tech' support for the lifetime of the puppy.  Which means you can contact us for questions, help, or to share news about your puppy at any time.
* We have a Written Warranty and Sales Contract for all puppies.
 *We are dedicated to maintaining the multi-purpose golden retriever.
 *We are breeding for health, temperament, natural working ability, & type.
 *We produce Competition & companion puppies available to working/active
homes only.
 *All breeding stock is cleared for hip, elbow, eye and heart diseases.
 *All puppies are raised in our home to ensure their development includes the sounds and smells of a typical home and regular interaction with people. 
 * They have free access to their dam until the puppies go home.  
 * They are fed a raw diet starting at 5 weeks. 
 * They will have one set of vaccinations, based on the titer of their dam to determine when it is optimal for them to get their vaccine. 
 * They will have an All Life Stages Kibble & other treats for training treats. 
 * They will see their regular vet and get their first vaccine and be micro-chipped.  They will be examined by a cardiologist and 
ophthalmologist
 for heart and eye screenings before leaving for their new homes. 
 * We do NOT remove dew claws since we believe these toes play an important role in turning and hill descents for active dogs. 
 * They will be assessed for conformation structure and type.
* They will be tested for birdiness before we send them to their new homes.
  * They will be assessed for temperament and working ability, using 
All of our efforts focus on making each pup the best that it can possibly be, and then we match them up to the best owners for each pup's capabilities.  Our goal is to carefully place each pup with a well-suited family, ideally, in a hunting or competition home.  This matching is done by us based on information we get from the puppy buyer and our observations of the pup for 8 weeks with us.
   Our commitment to producing healthy pups demands that we collect genetic information from all pups of our breeding program. For this reason, we require that all of our pups be tested for genetic diseases at 24 months of age, at the owner's expense. This testing provides important health information both to their owners and us, and includes OFA hip and elbow x-rays, an eye exam by a certified veterinary ophthalmologist, and a heart exam by a board certified cardiologist. Depending upon where you live, these tests should cost under $600. 
We expect to stay in contact with you for the life of your puppy and we encourage our puppy owners to join our Google email group and keep each other up to date on the latest happenings of your pups.
   Thank you for your interest in our breeding program. We are happy to discuss it with you in greater detail at any time. If you are interested in a Topmast Golden Retriever puppy, you can contact us via email at topmastgoldens@gmail.com
Pat & Tom Swallows
Topmast Golden Retrievers
Otisville, Michigan


You can also visit our mentor's websites:

Gayle Watkins, Gaylans Goldens