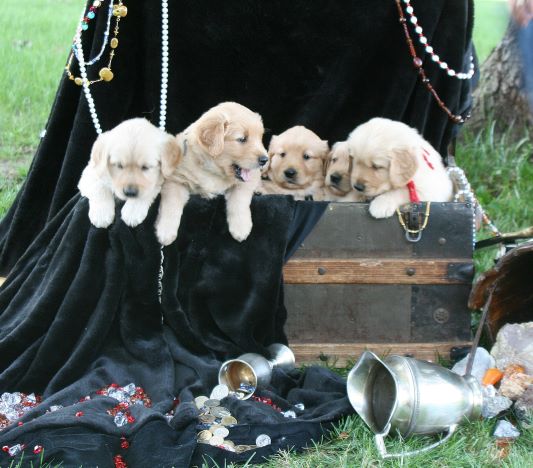 CD RAE BN JH OA OAJ NAP NJP CCA VC CGC
PD1 PJ1 PR1 PK2 CL1,
 had their first litter on
Click on the dog's name to take you to their
webpage.
For
the sire of Chime's first litter, w
e chose

Rocky

,
Rocky was owned and bred by Renee Schulte, Wynwood Golden Retrievers, a long time breeder of performance goldens.

Congratulations to Rocky and Renee for finishing his CDX with a HIT at the Ft Detroit GRC show July 9, 2015!!
    Rocky and Renee also finished his Hunting Retriever Championship HRCH in 7 straight hunt tests in 5 weekends June 2014.
These are huge accomplishments.

We made this choice for
several reasons; his field and performance abilities, his structure, and his temperament.  This golden progressed very quickly in his field training, easily earning his first
pass at his first Master Hunt test July 24, 2011 and finishing his MH on his daughter Diamond's first birthday May 20, 2012!!!
In the fall of 2010, Rocky completed his Certificate of Conformation Assessment under three well known breeder judges.  During the CCA, I was able to spend some time with Rocky and fell in love with his structure and temperament.  I watched him eating cookies with a four month old puppy next to his face, with not even a harsh glance at the pup.  What a fabulous temperament!
Rocky matured into a handsome, athletic golden with great attributes and field and obedience talents.
We also admire many of Rocky's ancestors.
was an accomplished dog in his own right, with many strengths as well as longevity and health apparent in his pedigree.  Joker sired the Gaylan's Comedy litter.  

    

Rocky's great-grand sire was Renee's famous JJ,
who produced ten OTCH's and many great performance dogs.
 Rocky's maternal grand-sire is the famous
Chime's sire

Canyon

is the sire of SIX OTCH's, multiple MH, OBHF, and MX, MXJ offspring.