The Rock & Roll Litter
June 15, 2023
Viper x Lexi                Co-Breeder:  Laura Voncina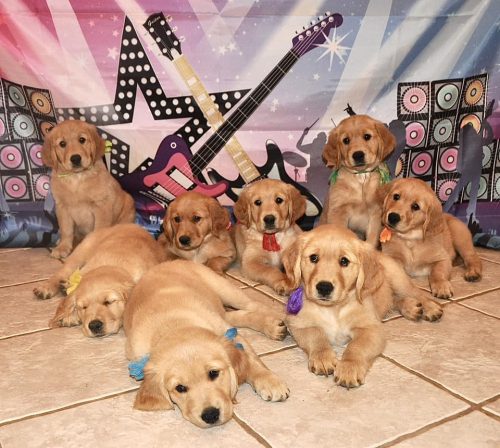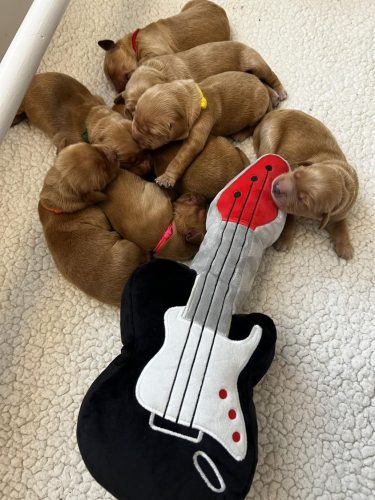 ---
Puppies and their owners:
Nelson –         Topmast Nelson's Rockin' on the Road Again         Morgan & Kyle Thomas; TX   (Mr Purple)
Axl        –         Topmast Gold'n Rocket                                               Nick & Sanja Lovria; MI    (Mr Blue)
Higgins –        Topmast Rocketman                                                    Victoria Laivins, OH    (Mr Red)
Rocky   –         Topmast Rock & Rye                                                    Lindsey & Ryley Makos, MI   (Mr Green)
Roadie –         Topmast Rockin' All Over the World                          Pat & Randy McKinney, IL    (Mr Yellow)
Piper    –         Topmast Colorado Rocky Mountain High                George & Beth Gibson, NJ    (Ms Pink)
MacCallum  – Topmast Rockin' the Country Highland Dancer     Terry Swanson, MI   (Mr Orange)
Gibson –         Topmast Schoolhouse Rock                                       Peggy Chapo, MI     (Mr Lime)
We expect good looking, structurally correct, wonderful temperament puppies.
Strong work ethic with an action-packed pedigree.
This litter was co-bred with Lexi's owner, Laura Voncina, here in Michigan.
Laura whelped & raised the puppies at her house.
Both Lexi and Viper are healthy dogs with no chronic health issues.
No allergies, hot spots, and wash & wear coats.
Viper and Lexi have OFA Good hips
Both have normal elbows, clear eyes and heart.
 Viper is 24 inches at the shoulders (68lbs), Lexi is 21 inches (55lbs)
This breeding is based on solid diverse working pedigrees in all venues with low COI.
Sire and dam are smart, biddable, athletic and talented- enthusiastic for any game.
Very good and honest in the water too!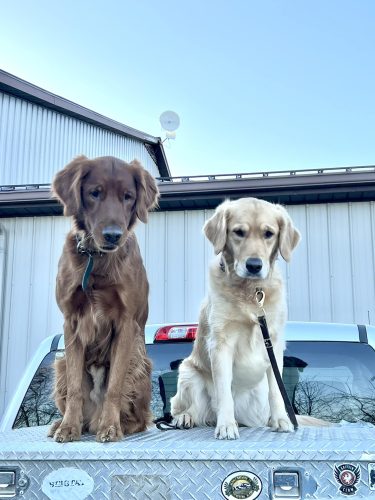 Viper & Lexi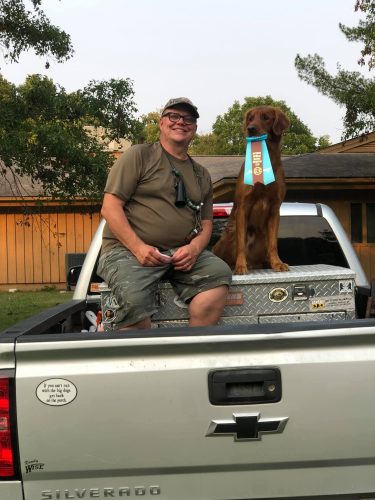 Viper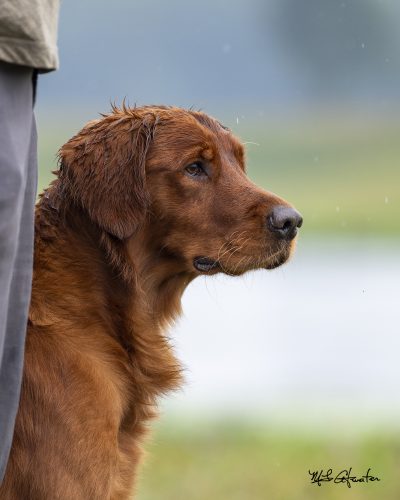 Photo by Mark Atwater